LIVE THE BUUTS' HA' EXPERIENCE
THE BEST NATIONAL DJ'S PLAYING IN OUR MYSTIC CENOTE THE PARADISE OF TULUM IN ONE PLACE
FIND DIFFERENT SHOWS EVERY WEEKEND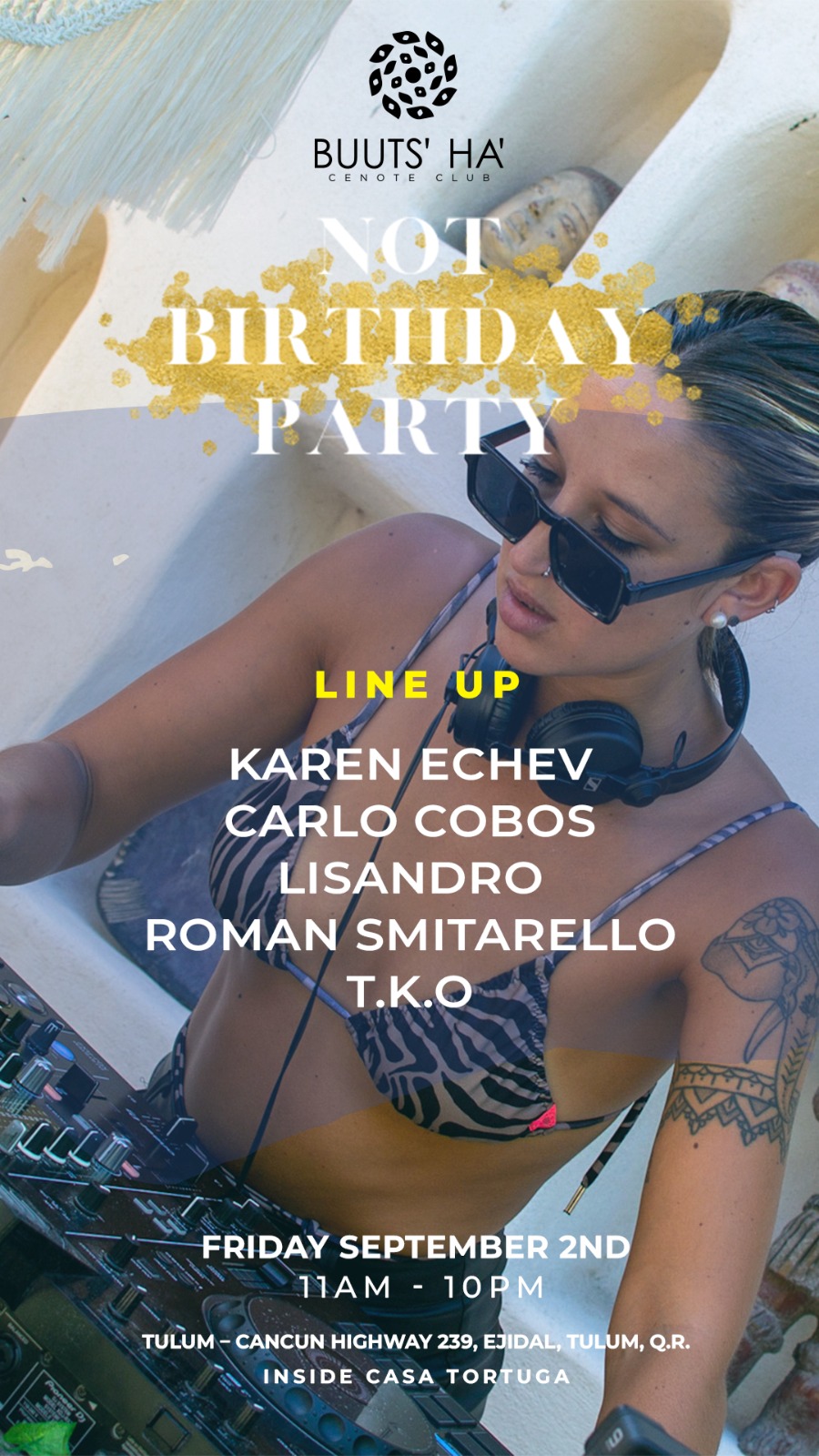 SEPTEMBER  2 – 4
Fri – SEP 2 – NOT BIRTHDAY PARTY
11AM TO 10PM
LINE UP
KAREN ECHEV ∙ CARLO COBOS ∙ LISANDRO ∙ ROMAN SMITARELLO ∙ T.K.O. 
Sat – SEP 3 – TULUM DANCE
11AM TO 10PM
LINE UP
CORCUERA ∙ RANBA ∙ ANIMAA ∙ GANEM
Sun – SEP 4 – SUNDAY FUNDAY
11AM TO 10PM
LINE UP

COMING SOON…
"STORIES OF XIBALBA VOL 1"
SATURDAY APRIL 30TH
11AM TO 10PM
LINE UP
JESSIE MALDONADO ∙   AURORA SOLOVEY ∙ ANGELO VALENZ ∙ CORCUERA ∙ SHOSHO ∙ ZEQUE ∙  ZUKRE ∙ MOSHER ∙  MANU BALAM ∙  DARIO DÍAZ ∙  DER MEXIKANER ∙  TUCCI
FREE ENTRY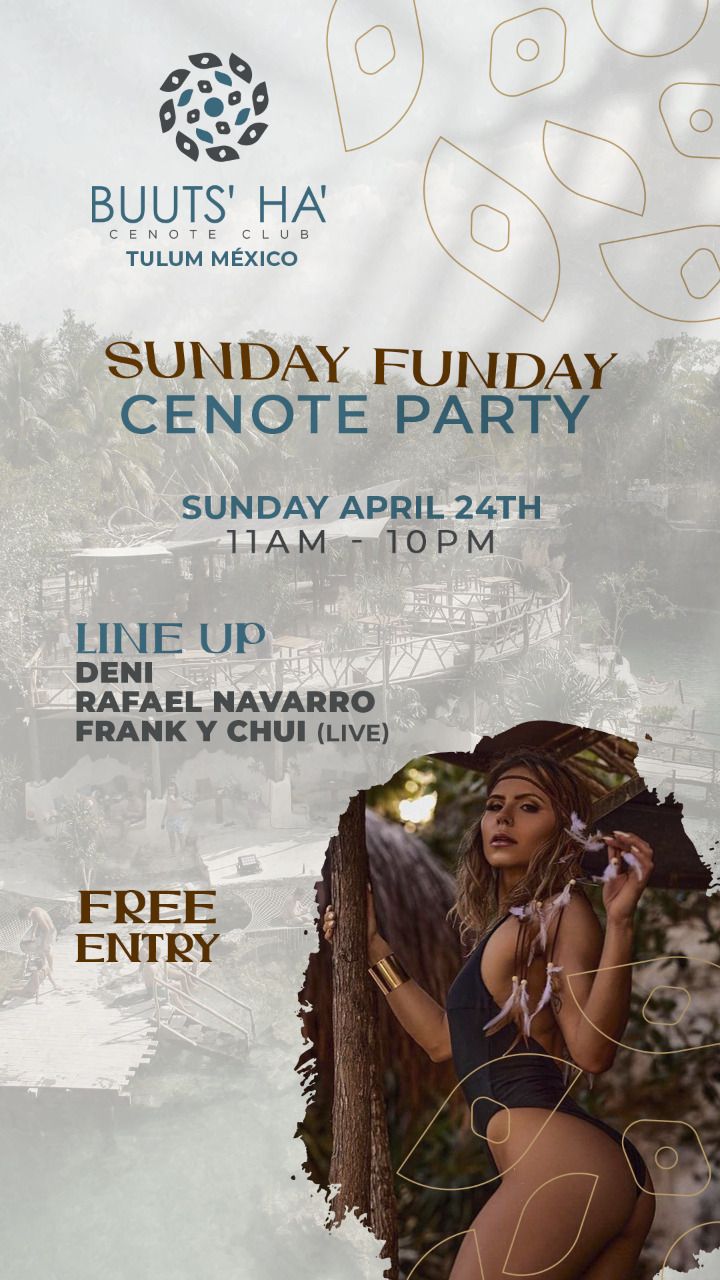 SUNDAY MAY 1ST
11AM TO 10PM
FREE ENTRY
Camilo Garzon
The best in the world if you like electronic music and nature you have to visit this place if you go to Tulum.
Teresa Quintana
Natural and very relaxing environment, enjoy the water and you can cool off or have a delicious snack.
Kathy Valencia
Una experiencia increíble, la música, la gente y la atención. Nuestro mesero fue Juan, super atento y amable. Si van pidan que los atienda Juan. Gracias por hacer nuestra experiencia increíble.
Jaime Luna Bravo
Buen lugar para tomarte un relax los cenotes están increíbles, tienes que vivir esta experiencia la naturaleza está increíble
Max Bengoa
Excellent place to enjoy the day and party!
Paico eGamz
Uno de los lugares más bonitos que he visto en mi vida. Cualquiera que esté cerca le recomiendo no dejar de visitarlo.
Mariana Roo
La comida está deliciosa y el lugar parece de cuentos de fantasía, super hermoso.
Mike Rivera
4 cenotes maravillosos del mundo Maya, apenas una pizca de este mundo pero muy buena opción para disfrutarlo, personal muy atento, excelente servicio. Si tienes poco tiempo te recomiendo disfrutar este lugar.
Marco Andrade Valdez
El lugar más místico de Tulum con un encanto en su concepto de platillos y bebidas. ¡Impactante!
What kind of music do they play?
Techno – House – Inde Deance – Deep House – Melodic House.
What kind of food do they serve?
It is a fusion cuisine with an oriental, topical and Mayan base.
From what age can I enter the Cenote?
The entrance is exclusively for people over 18
years old.
What does the entrance fee include?
The entrance fee includes table, towels, and life
jackets, lending it with an official ID.
What are the access restrictions to the Cenote?
It is forbidden to bring products such
as sunscreen, creams, tanning lotions, food, and beverages from outside the Cenote.
What are the opening hours?
Monday to Thursday from 11 am to 8 pm and Friday to
Sunday from 11 am to 10 pm Note: the schedule may vary depending on weather
conditions or occupancy of the place.
What transportation can I take to get to the Cenote?
- Tulum - BuutsHa: The van "Colectivo" that goes to Playa del Carmen has many
stops in downtown Tulum on the main avenue, Avenida Tulum.
- Playa del Carmen - BuutsHa: The van "Colectivo" that goes to Tulum stops on
Playa del Carmen Avenue, Cancun, behind McDonalds.
– Playa del Carmen – BuutsHa: The Van that goes to Tulum stops at Playa del Carmen Cancun Avenue, behind McDonalds.
We are waiting for a message from You!
Join our newsletter and be the first to find out about our new experiences